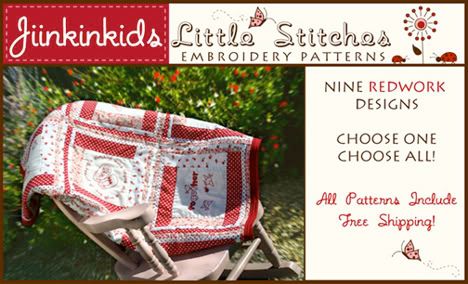 Coming to Jiinkinkids! A special line of
9 Redwork Embroidery Patterns!
These patterns are for those of you who do not have a crafty bone in your body AND for those of you who are sewing divas! I just made a redwork baby quilt using all nine designs and it is adorable! It only took one week to make and I only worked on it in the evenings!
The patterns will be making their debut at Jiinkinkids in the next two weeks, so check back!! I can't wait to see what you make!
+++++
For those of you who are interested, here's a little history about Redwork:
Redwork is the technique of using red embroidery floss and stitching on muslin squares using the outline embroidery stitch. The squares can be sewn together to make quilts, pillow or any other imaginative project.

It originated in 17th century Europe when red-colored floss was all that was available for fine stitchery. Eventually, other colors were adapted and became known as "redwork in black" or bluework.

Colors vary, but "turkey red" was the most popular and widely used. It is guessed that the color originated in Turkey, and was the first commercially dyed thread that didn't run or bleed. Today, the DMC floss colors #304, #498, and #666 are often chosen as the most authentic redwork colors, although blue, black and sepia brown are also used.